1. The life test of the whole machine exceeds the 800 hours required by the standard, reaching more than 1000 hours;
2. The working level of the hoist has been upgraded from M3 to M4;
3. The energy efficiency rating of the hoist is higher than the original CD1/MD1 series, reaching level 2, and some can reach level 1;
4. Full use of environmentally friendly paint;
5. The product adopts non-asbestos brake ring, which is more in line with environmental protection requirements.
Starting weight (t): 0.5, 1, 2, 3, 5, 8, 10, 12.5, 16, 20  
Starting elevation (m): 6, 9, 12, 18, 24, 30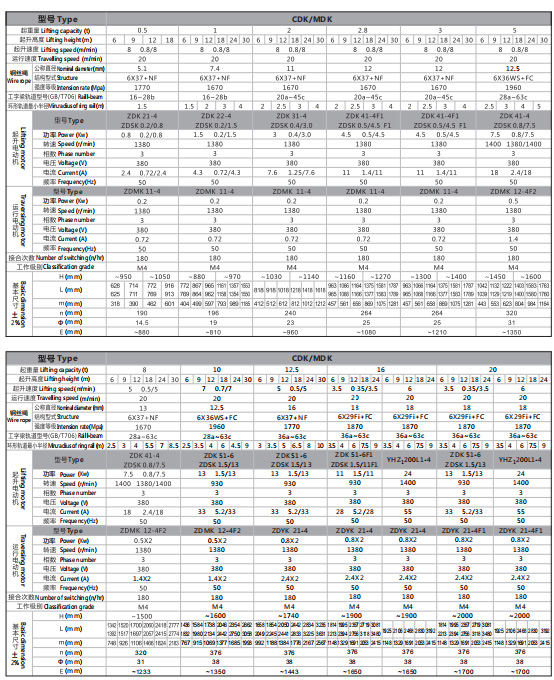 * The fixed type does not have a walking mechanism, and has four different directions of fixation (see the figure A1~A4 CDK/MDK electric hoist, which is an improved design on the basis of the CD1/MD1 wire rope electric hoist. Applicable occasions) Than CD1/
The MD1 electric hoist is wider, and the working level is upgraded from M3 to M4. It can be installed alone on overhead I-beam rails, or it can be installed on electric single beam, double beam, cantilever, gantry and other cranes.
In fine operations, when the lifting speed of the CDK type single-speed electric hoist cannot meet the requirements, the MDK type double-speed electric hoist should be used.
* When hoist running track does not use I-beam, such as H-beam or box beam, flat tread electric trolley can be equipped to meet the requirements.
Shown)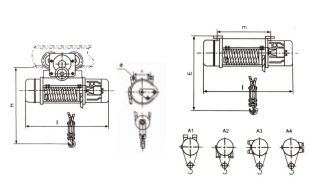 Advantages:
1. The shell of the reel is welded by robot to ensure the rigidity and strength of the stressed parts;
2. Optimize the quality of main castings such as the reducer case, case cover, motor front cover, etc.;
3. The safety factor of steel wire rope is improved to meet the requirements of M4 work level;
4. Optimize the size of the pulley and improve the strength of the pulley;
5. Motor performance improvement: using cold-rolled silicon steel sheets, the motor load duration has been increased to 30%;
6. Electrical performance improvement: the application of imported brand contactors, the improvement of limit methods, etc.;
7. Environmental protection and safety: environmentally friendly paint is fully adopted; non-asbestos brake ring is adopted;
8. Energy saving and consumption reduction: The energy efficiency rating of the whole machine is not lower than level 2, and some specifications can reach level 1.